Outer Banks, North Carolina; hunting hurricane
Dateline: 11 - 2009
This story actually started back in the 1st week of September 2009
All packed & ready to rumble...after the camper roof is brought down. We're off to attempt to intersect with tropical depression Erika and the next tropical depression coming, too! Silversand thinks that it looks to have the makings of a fairly good hurricane along the south Atlantic coast.
(Extract from journal Sept 5th 2009)
Haunted by a need of old fashioned adventure, Silversand determined to go hunting; this time for a hurricane on the coast of North Carolina!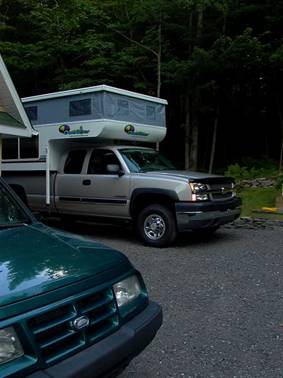 After leaving Quebec, we decided to stop in to several places along the way; however we will keep those stories for another time and just relate the tale of where the hunt really started! There will be live journal extract to give you a real feel of our adventures on the coast of the Carolinas.
Its Labour Day weekend, and we simply could not make it directly all the way to North Carolina. We had no choice but to camp at First Landing State Park, Virginia. We had been here before and enjoyed this park, so this little stop was a pleasure. It also came with an ocean view! A brisk walk on the beach and then some reading, and suddenly I realized that I am sitting alone...where did the hunter go?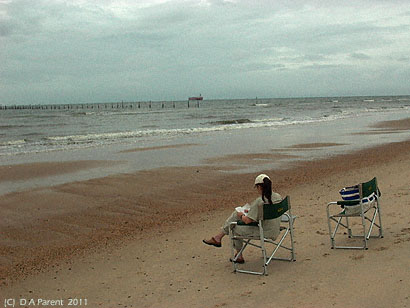 ...and later on, again I was alone at the camper with a tropical storm coming, no wi-fi connection thus no way to check the local weather and satellite, we have to wing it with our weather instruments: showing something was coming, but from where? When?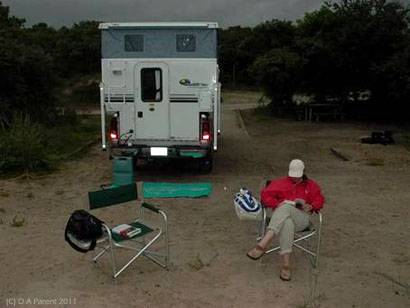 Silversand was searching for cloud action, he was focusing on the wrong side of the beach, wrong direction. Campie and I were closer to the apparently impending storm.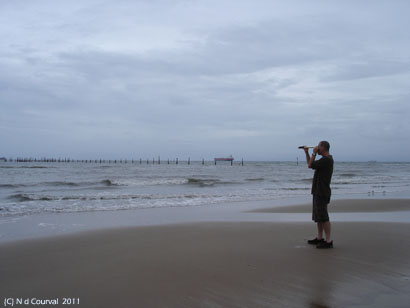 Meanwhile, Silversands' hurricane hunting was not yielding any hint of any worthy tropical depression yet. I recall the count: hurricane 0, uneventful rain: 1, deer grazing on the Interstate 13, and say what Silversand ? No hurricane, so tiger hunting the only logical alternative for now.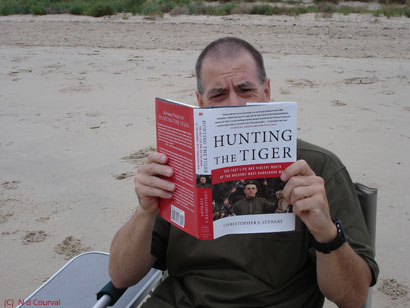 Silversand better start hunting lunch, Silverdunes is starving. We headed up to local sea food at a highly-recommended restaurant on the waterfront.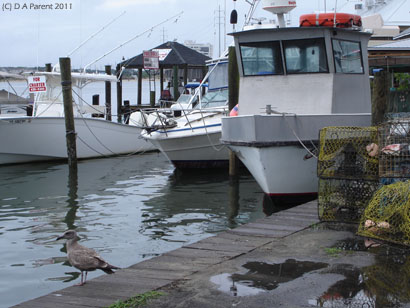 Parked the Silverado and camper at Dockside, It was a quiet time between lunch and supper; the fishing boats had not yet come back.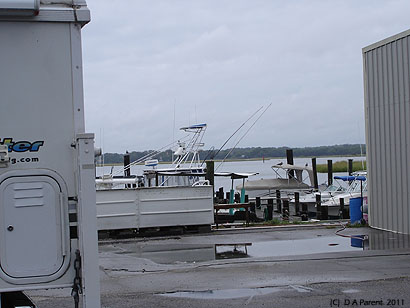 Silversand must have been very hungry too. No! not the bird, Silversand, put down that cross-bow, we are on the ocean, we eat sea food!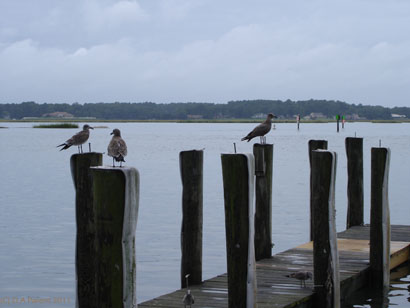 We enjoyed shrimp, crabs, tilapia and a heaping entre of calamari 8 inches high and 12 inches long with several excellent beers in frosted mugs. The sun made an appearance, albeit briefly for an hour and we rush back to the beach for a very long hike till sunset.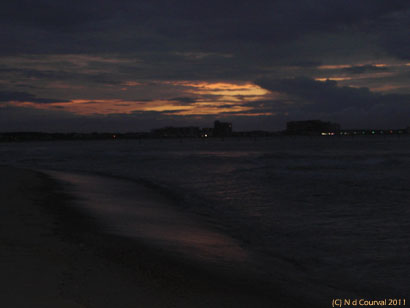 The lumbering tropical low hit in earnest, the brutal wind too, and the night sleep was interrupted by the rig shaking as torrential waves of rain slammed into our port side. We should have closed the roof on Campie, however with no access to a Doppler radar feed, we could not predict any precise moment of impact until late that night-- then too late.
The fire-hose like rain blasting the port soft wall was overwhelming. Beads of water started in along 3 seams, but nothing a few hand towels could not immediately keep at bay. We then made the decision to close Campie. Wind driven rain was falling torrentially, muddy around the camper, at least a foot of water and sandy mud completely surrounded the rig around and under us, and with flips flops...well, tearing around the camper was quite slippery and in pitch-black night Silversand decided to have a mud bath (not voluntarily; explaining the papers, un deposited checks, licenses, documents, passwords in his pockets wet, destroyed and others in fairly bad shape). I really could not laugh, at least overtly. I was enjoying being in the wet warm tropical deluge, and too dark for pics with no underwater camera. Well, you will have to imagine the predicament.
We ended up moving at dawn from our totally flooded camp and headed out to Starbucks to get a connection to the Internet. The radio had said rain overnight. this was a storm with gale wind and torrential rain. We met a bay ship pilot having a coffee. He mentioned that many were caught off guard, that the low shifted nearly unpredictably, that Norfolk would be getting what the Outer Banks had gotten and was still getting (over 9 inches of driven rain in a 24-hour period!). Forget tiger hunting, we are in it: TS3 ! What Silversand came looking for. The tropical depression! Lets rock & roll into the flooded coastal areas of North Carolina,fast.
We saw streets flooded, winds were creating curtains of brutally thick rain, cars were hydroplaning on the Hampton Roads Beltway. Many multi-car accidents we passed-- quite a mess. Two cappuccinos at Starbucks did helped, though with air conditioning and we totally soaked to the skin, not the best combination.
On our road to the OBX, we encountered ever more and floods, Virginia Beach/Norfolk was not the only region with issues...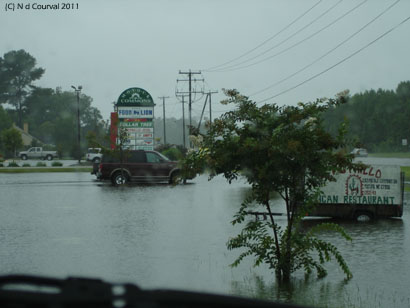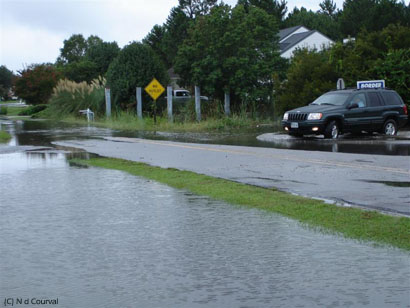 We landed at Waves on the tiny spit of sand blocking the Atlantic onslaught tens of miles offshore of mainland, selecting the campground to be as near the ocean as possible (like 100 feet away!). Only 15-foot high sand dunes separate us from the rip currents of the noreaster tearing up the Atlantic currently, sounding like a constant freight train unending. The waves are colossal, greyish with lots of white. Wind shearing off their crests, blowing salt spray as far as our campsite. The sun shines intermittently between clouds quite intensely. Huge ominous black storms still surrounding...I took no pics as yet at Waves-- too absorbed by the beauty of the tormented Atlantic.
Our location: Camp Hattaras RV Resorts (and other surrounding campgrounds for your info):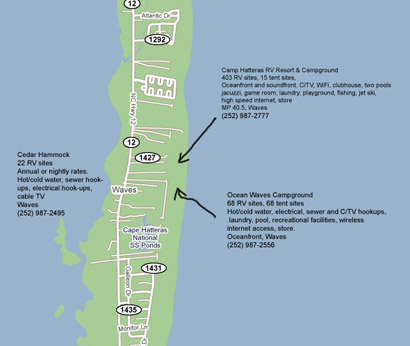 (extract from journal, Sept 9th:
We are now Wednesday the 9th of September. One hunt successful, tropical depression had been found. Silversand, not fulfilled with the last adventure, hunted the beach for tiger, and as you can see on this pic, no tiger was found...however Marshall greeted us on this beautiful morning. I thought no tiger in OBX for sure, though we found a historical instance of said. A British flagship belonging to the Sir Walter Raleigh 1585 expedition en route to Roanoke Island was named Tiger. It ran aground on a sand bar at Ocracoke Inlet forced to land on the island for repairs. No vestige remains on shore, however its story continues to be told.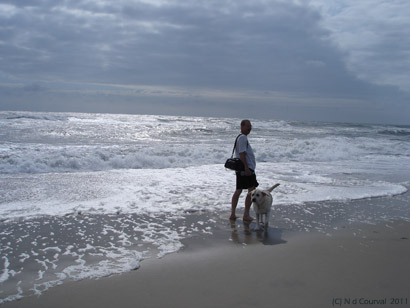 Back to camp we went, and in our hunt for hurricanes, impending Hurricane Fred turned out to be a fish storm. The low just off north OBX now morphing into a tropical storm will affect more the DelMarVa area, so we would keep a watch here for wave action and beach erosion, higher tides, winds, with some scattered showers. As for the tiger hunt, it has now morphed into a hunt for shipwrecks and old shipwreck stories.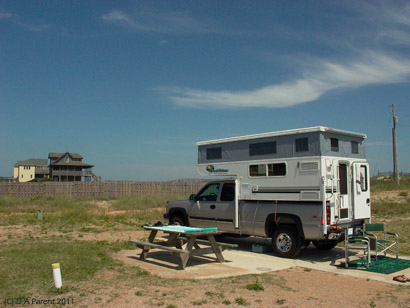 Walking along the golden beaches thinking of the past history of the Outer Banks coast, when in colonial times so many ships ended their sailing lives on these beautiful sand bars. Perhaps even where we tread the coast, ghosts of distant mariners walk the same footsteps. Ocean liners, submarines, freighters, sailing ships, many, many shipwreck here-- countless stories untold.
Most ships have been broken to pieces by the ripping tides and relentless storms and scattered by similar tempests that tear them into bits today. What is left is often buried for many months by surf or drifting sand, then unexpectedly uncovered by the same physical processes.
We will hike the beach to locate several. The evening came and we walked again. Words will be descriptively ineffective. Pictures are narrative and will illustrate our Wednesday evening at Waves.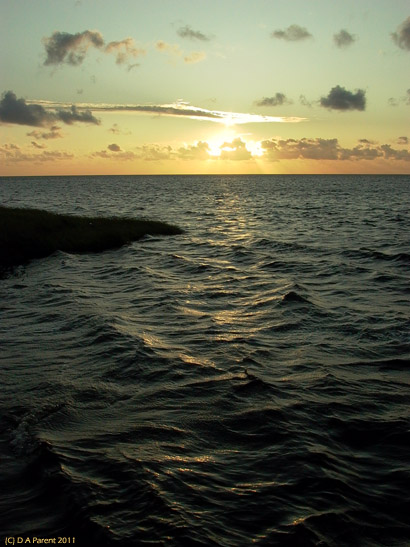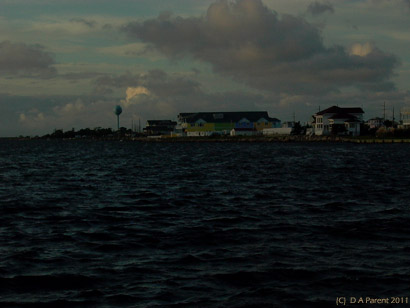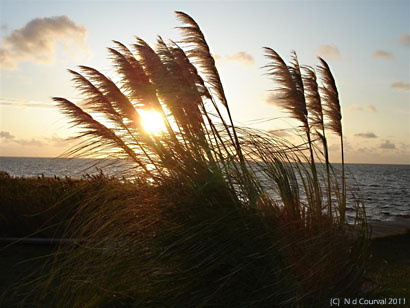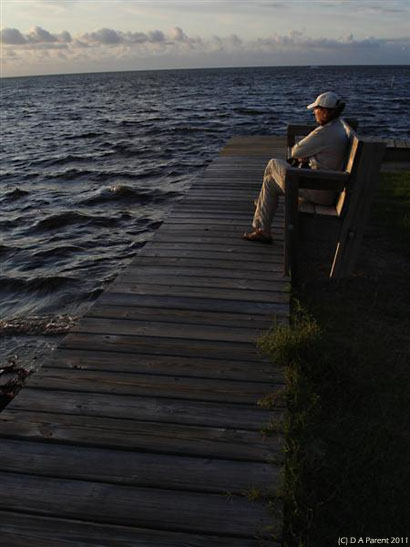 Waking up before dawn Thursday we hit the beach-- the sky view and the morning sunrise calling. Hiking over the dunes on our boardwalk passerelle, Silversand watching the sky and Silverdunes hunting seashells, probing what the ocean delivers to her as each wave recedes.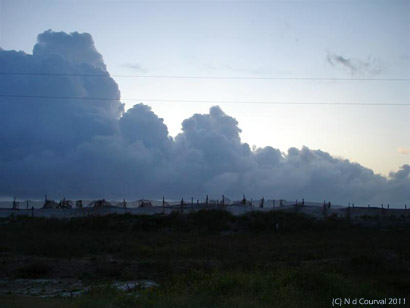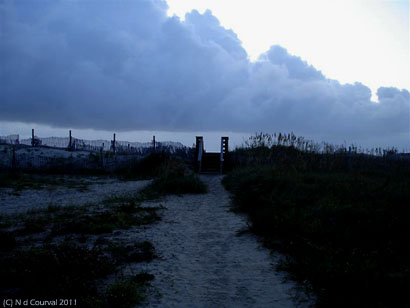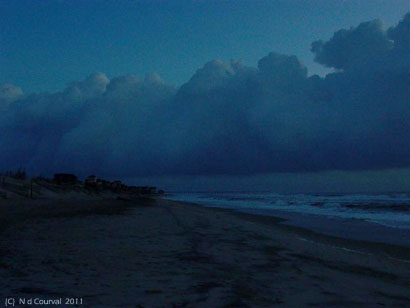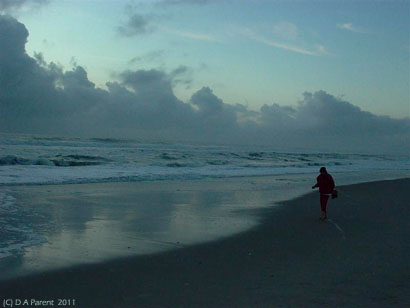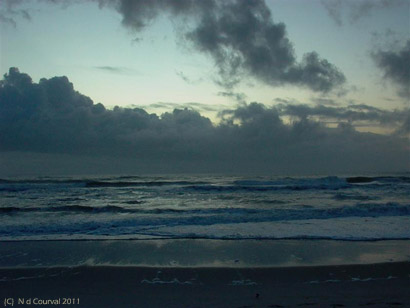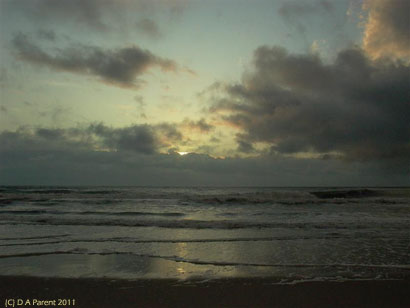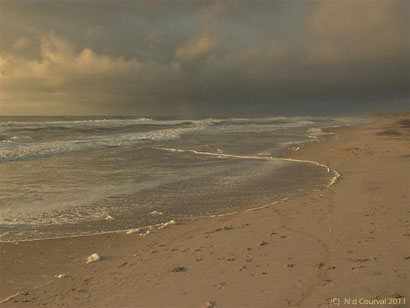 Extract from our journal:
As the sun slowly rises higher on the horizon, we finally make it to the pier where large coffee and talk with the locals await: about weather, fishing, plants, local ecology and gardening. The ecosystem of the region is quite fragile...the sand dunes so frail...sculpted as an art piece by the ocean and destroyed by the same artist subsequently. Spectators of the dunes and landscapes throughout the OBX inadvertently damaged these dunes. We have been careful and conscious during our trips to the Southwest not to disturb the crypto biotic soil; here in the OBX the dunes are every bit as fragile.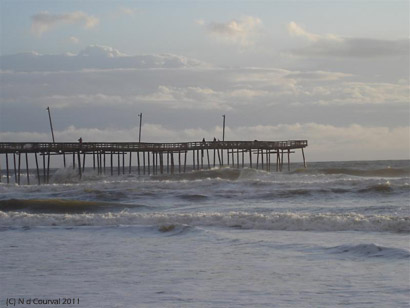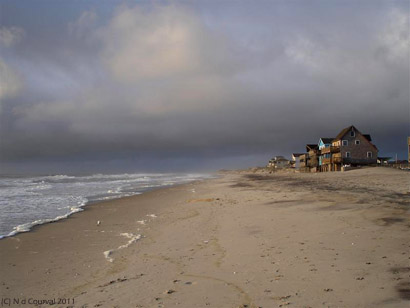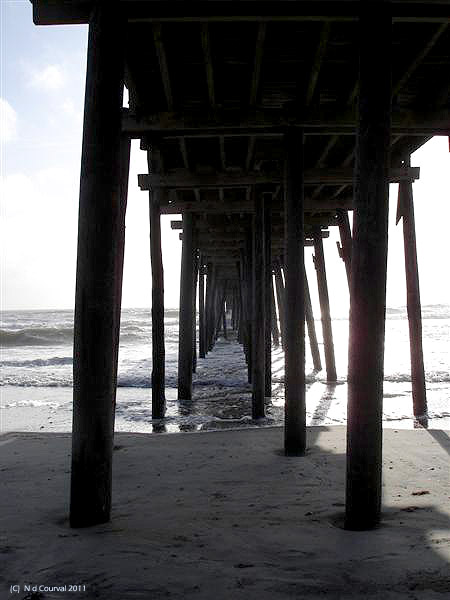 Not far from this wooden pier lay vestiges of old wrecked ships. We will be back later today to investigate. As I typed these words, rain and wind has steadily picked up, but sun will return!
Just back from sampling wind speed and direction from beach area with the anemometer (one of our meteorological instruments): ave 21.3 MPH. This may not seem like a strong wind however the wind is coming from over the Sound, not from off shore. The wind speed from inland of the beach is average 30.1 MPH. We've started into some good rain squalls now, too. The surf is positively brutal tonight. We're all packed up and ready to hit the road tomorrow morning for Buxton area...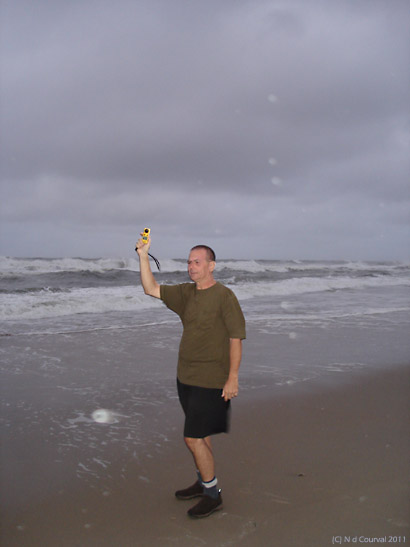 Silverdunes enthusiastically wants to visit the US Weather Bureau Station (NOAA) at Hatteras Island. The Outer Banks of NC played an important role of the national weather network. A station at Cape Hatteras was opened in 1874 managed by the Army Signals Services. The Weather Bureau Station operated until 1946, and the staffing changed over the years. Composed entirely of men in 1941, two women were hired as observers and forecaster ranks, and during World War II by 1945, over 900 women were working for the Weather Bureau. Lucy Stowe worked all three weather stations in Hatteras. Hired in 1943, Lucy was 18, she made a full life career of it. In one of her interviews she described well the weather at Hatteras: This is a weather breeding area. As our sejour in the OBX has proven, weather can turned hastily. Our octogenarian Hatteras Weather Station guide today remembered Lucy fondly, as a very, very bright and dedicated individual.
Unfortunately, Lucy passed away in 2008. Today, post Labour Day, the Park Services were not available to guide a full tour of the facility. They are still in process of negotiating the return of weather station equipment and documents procured from this station by Government agencies on the Mainland. If you recall your history, the Hatteras weather station had received the original distress call from the Titanic just before she sunk.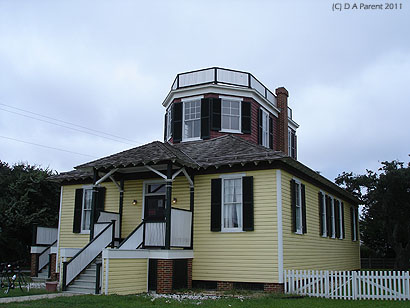 From tiger hunting to alligator hunting on the OBX, what next?
What better place to start the next phase of the hunt than the Graveyard of the Atlantic Museum, in Hatteras? Pictured here, the architects brilliantly conveying the skeletal structure of 17th century vessels replete with masts, in a 21st century setting: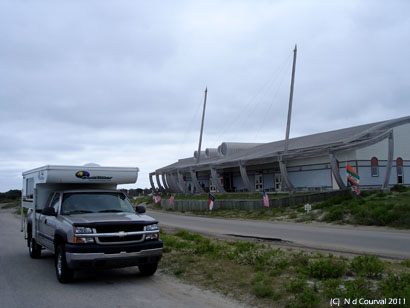 Silversand had always been deeply interested in the evolution of cryptanalysis and codebreaking, and what better locale to see first hand a transcription device (the Kriegsmarine encoding machine) could be readily available? Pictured are photos taken by Silversand of both the Kriegsmarine encoding machine (immersed in a stabilizing salt-water tank) and the Enigma M2946 (code named: Triton) three rotor machine, recovered from U boat sub: U-85 off Hatteras in 2001 by the Bunch & Hunting archeo-marine expedition. Allied reverse engineering of the German hardware/ciphers permitted cryptographers to cryptanalyze numerous messages that may have shortened WWII by perhaps several years.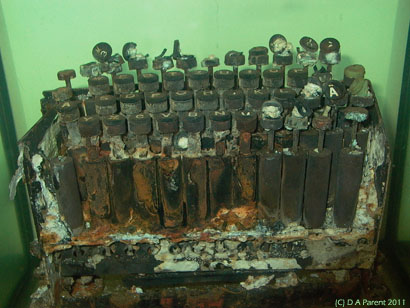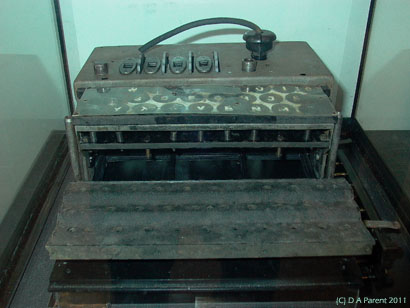 ...back to hunting alligator :

Rather interestingly, the 1st American Civil War era submarine to be active in the US Navy was named the Alligator. It was designed by French engineer Brutus DeVilleroi.
Underway to a mission at Lake Charleston, South Carolina, under tow by the Sumpter, it sank in a storm off Cape Hatteras. Locating the sunken vessel is a bit beyond our means, however a concerted effort is underway to use side-scan sonar and towed sub-surface magnetometers to try and locate its remains under the sea.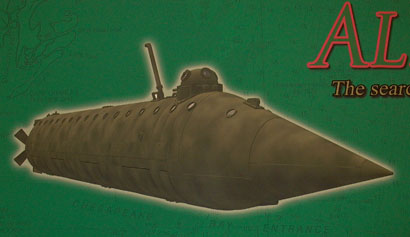 Breaking away from local marine history for a moment, Silversand heads out to explore the Hatteras vehicular access point to the beach. We realized that the local ritual was to rush out en mass to the beach by the hundreds early Friday to stake a beach-head real estate claim, and set up surf fishing gear rapidly. All done in a very orderly way: hundreds of vehicles lined up and parading to make their entry to the beach, some after airing down their tires, and others just going for it with fully inflated rubber: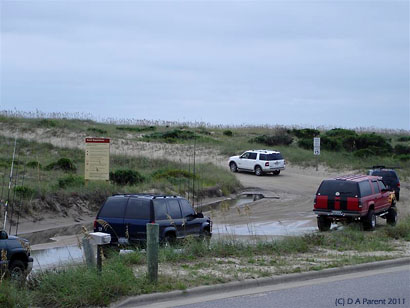 ...and then vehicles disperse up and down beach to occupy prime beach and git fishin: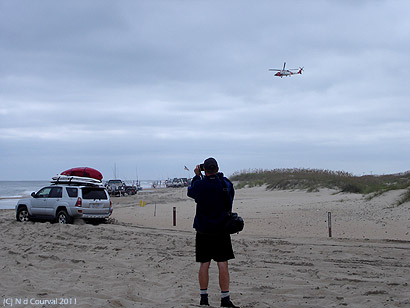 Extract from our journal:
Literally not 60 feet from the beach drive-in of miles of vehicles was a heavily-signed area of about 30 x 30 feet guarding a sea turtle nesting site on the beach, this happily co-existing with the endless line of SUVs horizon to horizon :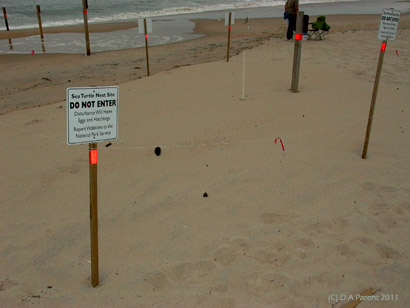 We looked all over for suitable space to camp in the Hatteras/Buxton area, but encountered only a nearly completely flooded National Parks Hatteras camping area (located near the Cape Hatteras lighthouse):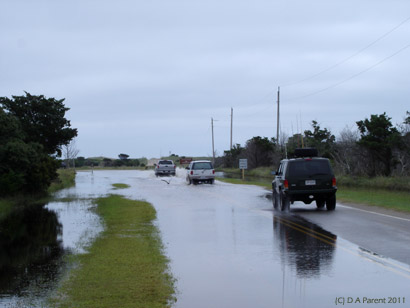 Extract from our journal:
...and an (un-named) commercial campground that we didn't find very appealing (to us, anyway). We would have liked to go to Ocracoke Island, however the vehicle ferry was completely overwhelmed with Friday weekend traffic (it appeared).
So, we unhurriedly made our way back up the island to our original locale at Waves. This time camped on the Pamlico Sound side, opposite the ocean side of things: our view out camper door at sunset over the Sound.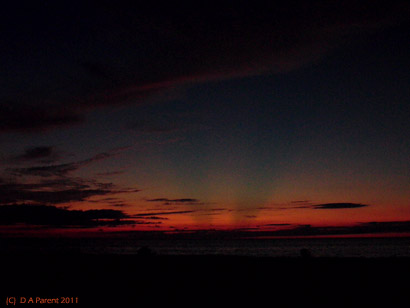 After all the myriad hunting, what was left to hunt for? The never ending aspiration of life, to hunt for love at OBX and all thats possible by discovering the place filmed in the Hollywood film: Nights in Rodanthe. Incredible as it may seem, we had not seen that movie yet, we knew nothing about it until we visited the pier in Rodanthe and the pier owner relating all the details of its filming to us over the next several days.
Love may not have many obstacles. A crab and a jelly fish? Why not!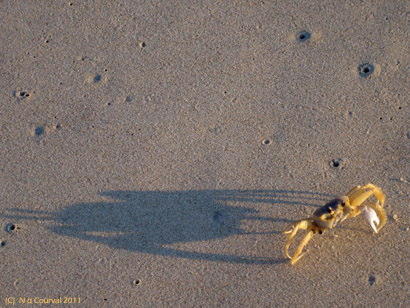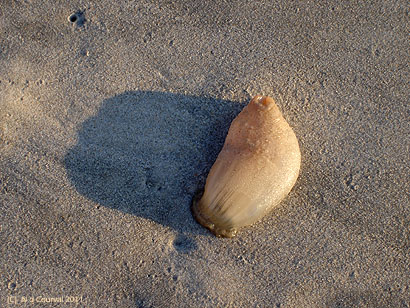 Walking the gorgeous golden sands of the OBX beaches we are transported into the world of the movie Nights in Rodanthe.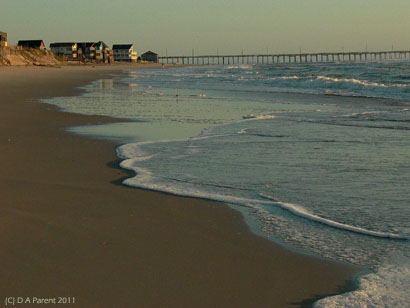 Strolling the pier where many shots were filmed, such as the Hurricane Isabel (September 18th 2003) party, we view the Atlantic Ocean and the surrounding coast: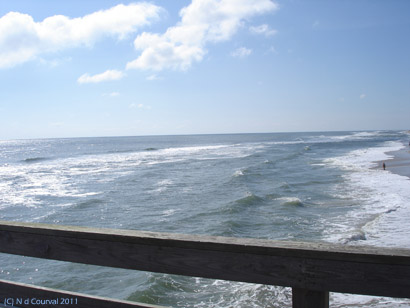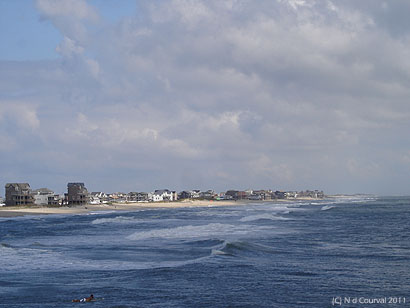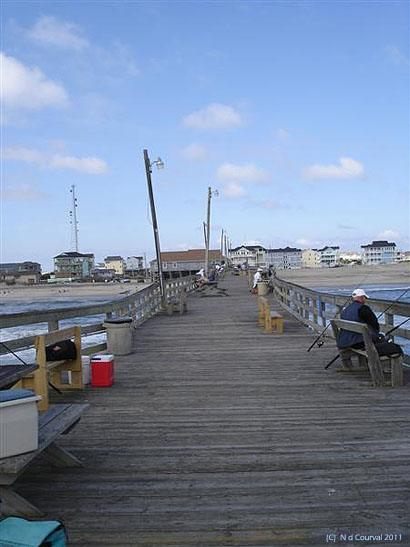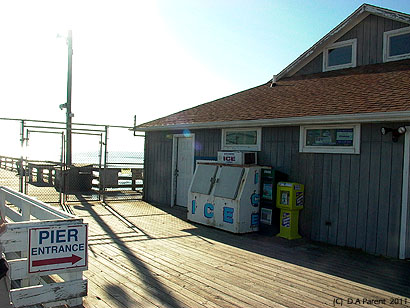 Diane Lane and Richard Gear movie scenes (out-takes) were filmed around Waves and Rodanthe, and we head out to get some coffee at the same market used in the film: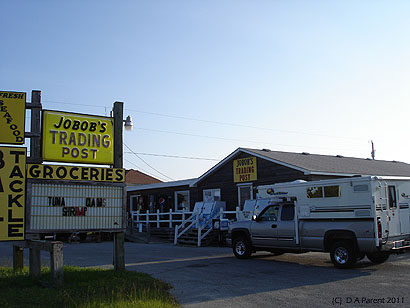 The beautiful house used for the outdoor scenes in the movie had been stripped of its outside additions, house now resting on the beach as it was before the film shoot. It is the nearest house to the ocean. Benign noreaster storms encroach on her pylons relentlessly damaging her structure. However she still stands out on the beach proud in our picture. In 2010, due to eroding beach, the house was moved to another locale closer inland, still offering the possibility to rent for a romantic evening or 7 in the OBX.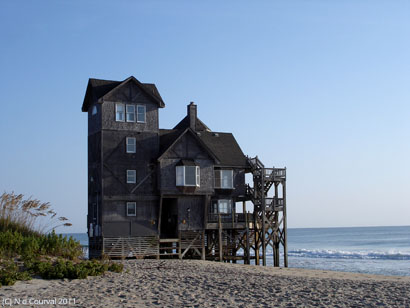 Journal extract:
And back at our camp we find it as much a romantic setting. Dunes still hunting for the perfect love: a rare Spanish Galgo Greyhound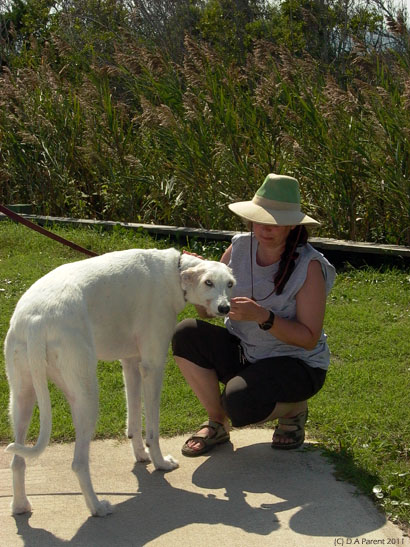 Sun setting on the Sound, crickets, cicadas and tree frog music mesmerized us, soothing sound to fall asleep to.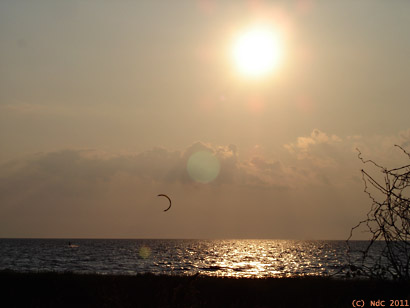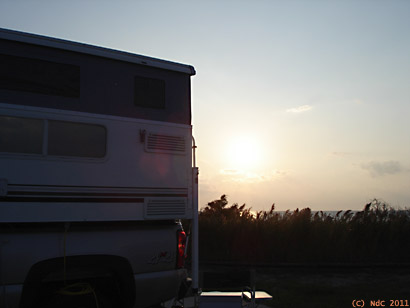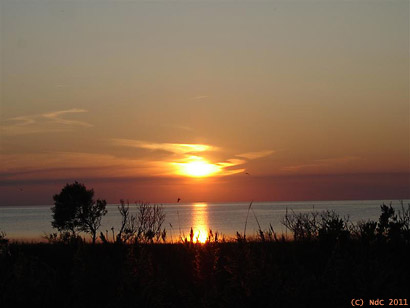 As we leave our beautiful camp at Waves the following morning and we headed slowly back north, we stop at Bodies lighthouse, which in our opinion has more charm than the Hatteras light.
This current lighthouse is the 3rd to have been build on this locale. Note that when we were there the lighthouse keeper dwelling was being restored, and renovation should make the lighthouse accessible for climbing in 2011. Completely built in 1872, located on the Roanoke Sound, north end of Cape Hatteras, his visible light sears through the night sky up to 19 miles. Silverdunes, has been interested in beacons for signalling over land in the time of the Anasazi in the Southwest: a fire lit at key location on rock cairns spaced out miles apart throughout the desert, alert for defences, and relaying a lit pathway over 100-miles long. On Hatteras shores, beacons were use by pirates to mislead boats, luring them to shatter on the rocks to steal their treasures. Today beacons are primarily for navigation via broadcast digital signal.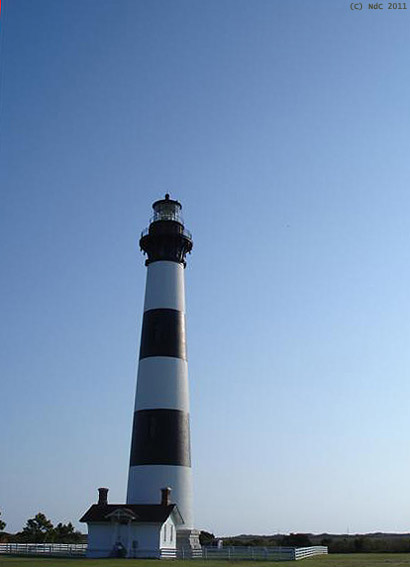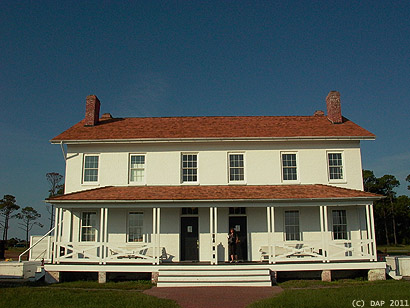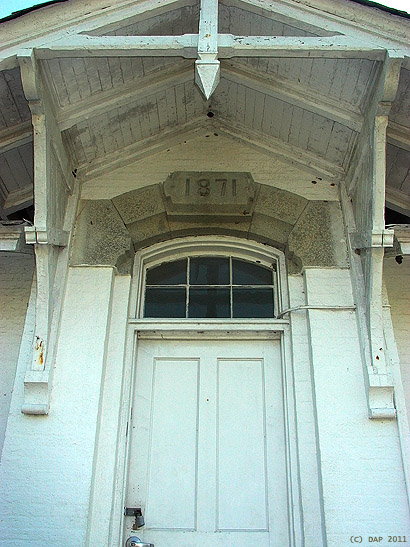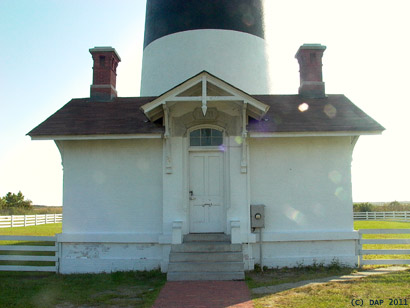 And as we depart the OBX and leave all the hunts behind, the search for treasure had been fruitful. Silvedunes brought back the most important bounty: great memories of the OBX and a wish to go back again and again. If she cannot have her beloved Southwest as often as she desires, she will settle for the dunes and legends of the OBX.
Silversand had one final thing to hunt for, a truck wash! As soon as humanly possible, he had to stop and power wash the salt from the rig before heading North. At Kitty Hawk, Silver and Campie are getting a scrub-down! Notwithstanding the absence of hurricane and tiger, a near idyllic setting for further adventure is found-- and it will continue at a future hunting season.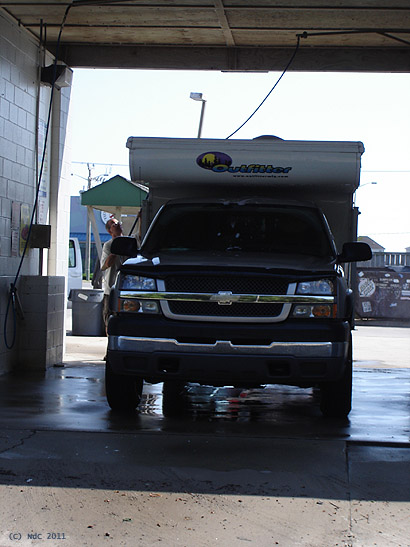 --END--