Summer and Fall in Mount Orford Provincial Park, Quebec
Dateline: 02 - 2011
This story actually started back in 2006, and continues in fall of 2007.
A mature sugar maple forest, hills, ponds and a quiet lake are the reason why we keep coming back to Parc National du Mont-Orford. A short 25 minute away destination for us (a good thing in these times of high gasoline prices) to reach a peaceful camp to enjoy the wildlife, the cries of the loon and views of a beautiful lake surrounded by rolling mountains.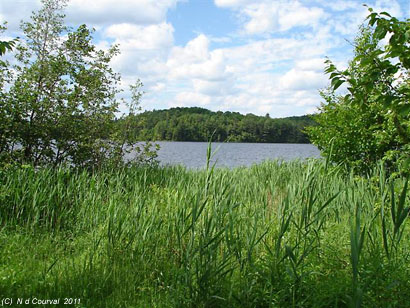 We get the same camping spot time after time; spacious without neighbors on our two sides. Orford, is a place for relaxing, reading a book, hiking to many parts of the park, and returning again and again to the lake for the setting sun.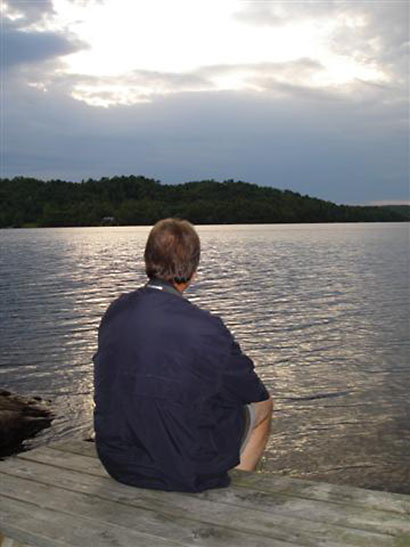 And as the sun sets further, we resume our hike back to our camp, leaving this beautiful view, lapping of waves and the calling of loons behind us.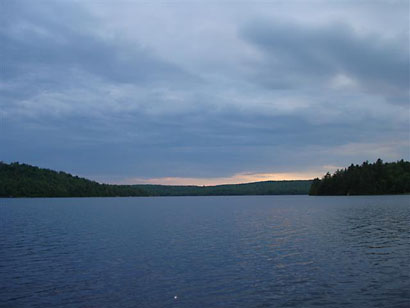 Early the next morning, we hike to see additions to the park, and this time we are heading out to experience a paradigm shift in the way camping will be done here in North America. In Europe, the tent Huttopias made their way into campground years ago. In Quebec, this is the 1st year that they will be in the la Sepaq Park system.
Mont-Orford Park set several sites up. The concept is geared to people who have never experienced camping and do not want to invest, without knowing if they will embrace camping or not. It also targets people who do not camp often, or with no equipment or those that cannot carry sufficient equipment to make their trip more comfortable than the usual-- such as cyclists.
The park used to have a ready-to-camp formula with pre set up tent trailers; however, gaining popularity now, the European Huttopia tent is fast becoming all the rage. It includes a wooden platform, canvas wall and ceiling. Inside, 2 rooms: a bedroom with curtains and a kitchen dining-room living room, with table and oil lamp, cooking appliances and chairs for the deck.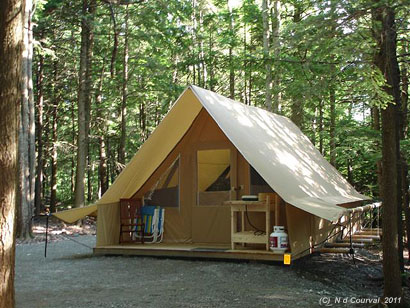 It is a very comfortable setting. Wish they had those when I was younger. Now, our camper is our home on wheels!
The huttopia kitchen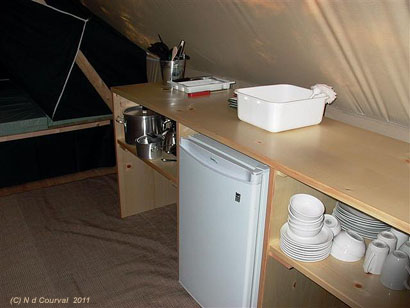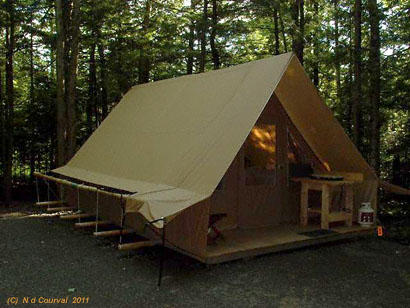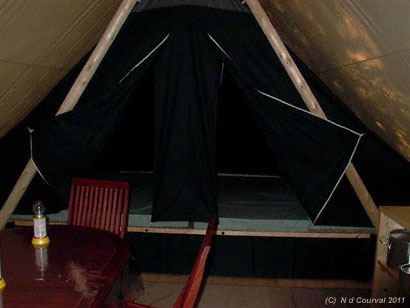 Back on the trails we encounter this beautiful old tangled yellow birch tree. Parts of Mont Orford forest are un cut and mature having not been disturbed to any great degree by the civilized world.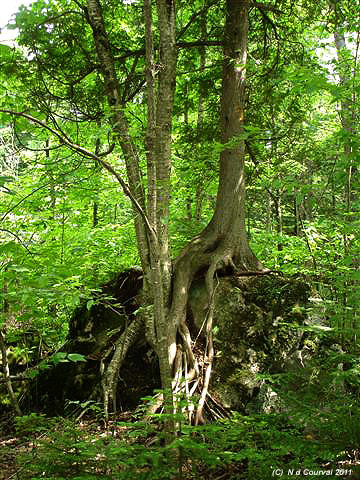 A beach also offers fun for the children; not quite relaxing moments with all the hustle and bustle, but a nice way to refresh in the water and enjoy some sun. When the beach gets too busy...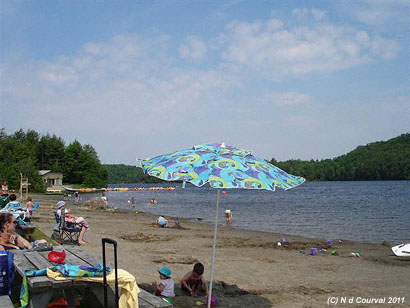 ...a pedalo, canoe, boat or kayak may be rented and out you go, away from the crowds, on a lake with few motor craft.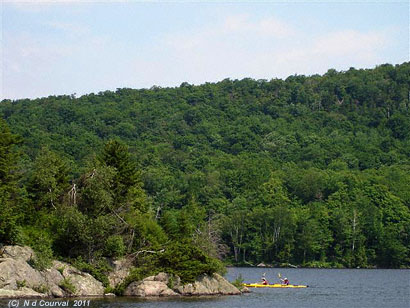 We are not the only ones fond of Orford. As we were cooking our Mexican dinner in the camper, we had a creature up on our stairs staring at us with interest through our screened door. No photo of it unfortunately. It was the masked bandit appreciating the Mexican refried beans and spice, bored of the old hot-dogs and hamburgers scavenger hunt. The park has an overpopulation of this creature, and at supper time you had better protect your food! Here is our camp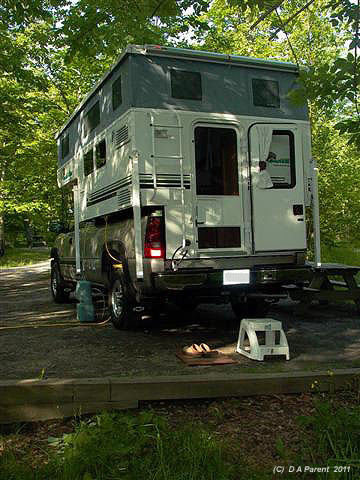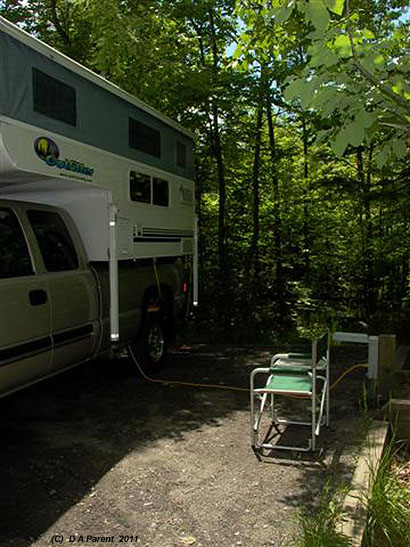 If ever the raccoons eat your supper, there is always the convenience store, a 1 kilometer trek away (this of course depending where you camp in this vast park) and you can pick up some food; or if raining, listen to the Rangers talk on the fauna and vegetation of the park.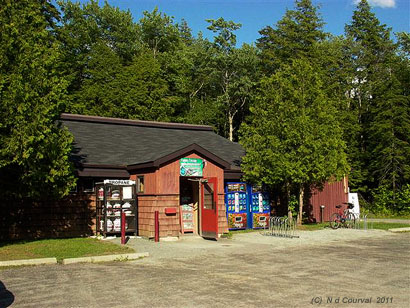 Each night brings a diversity sunsets and each night we will walk to the lake and marvel gazing at it. As we had lots of rain during our vacations this particular year, Mont Orford was not an exception, and clouds covered our painted sunset.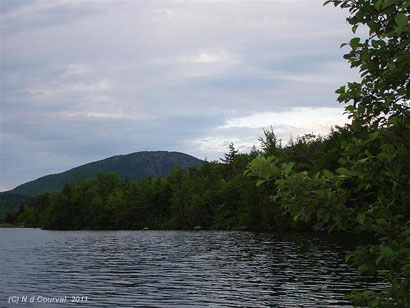 On our winding drive out of the park heading home, we pass a nesting site for turtles. During our June visit the nesting period was long over; nevertheless we were lucky to see an enormous blue heron nest platformed out about 50 feet above the wetland. My camera could not catch clearly the infant herons feeding. Still, you can see the heron attending its nest neck stretched out observing us!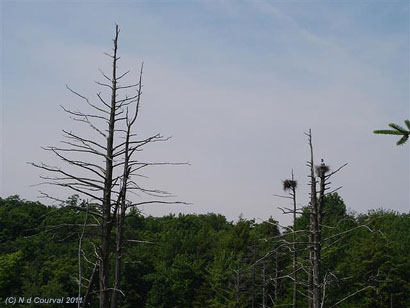 We are now back to Orford in the fall of 2007.
This Provincial Park, being close proximity to Autoroute 10, is a natural area offering amenities if you need them, or a more remote setting without them. There is a diversity of landscapes to please all tastes. However for us, there is the call of the loon and the quiet forest nighthum of Orford wildlife and myriad nocturnal summer insects.
We go back during autumn for the same reasons. The park takes on another palette of colour and fulfills our inspiration to keep us going over the long 5 month winter to come.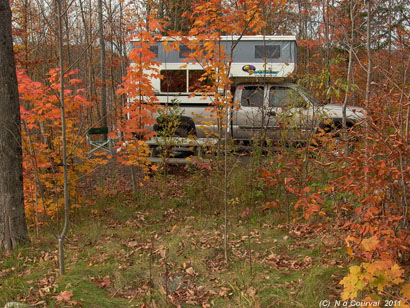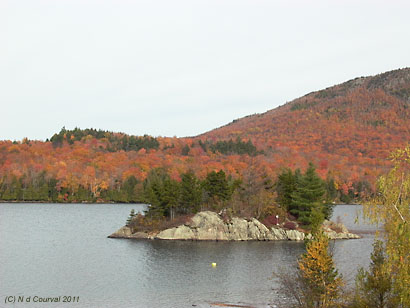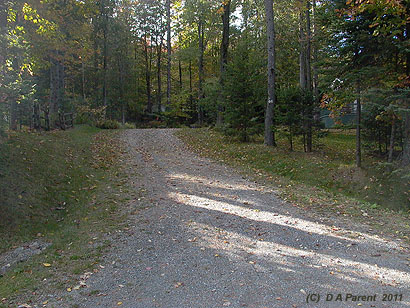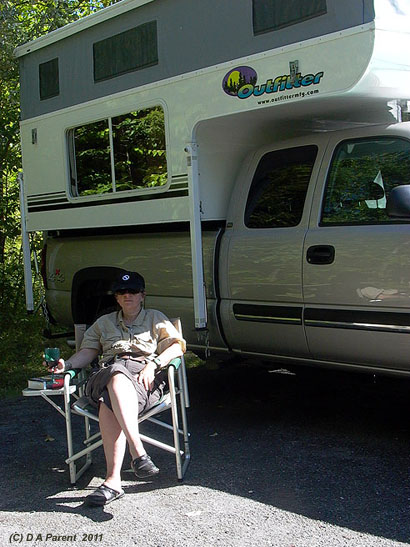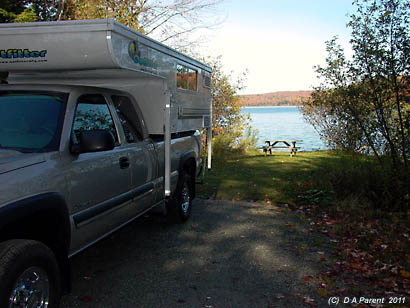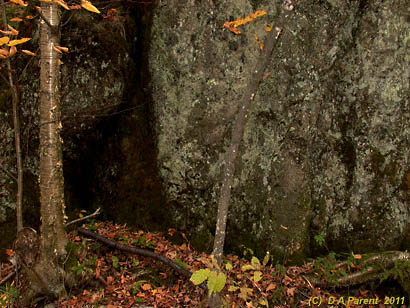 --END--