Summer and Fall in Middlebury Vermont
Dateline: 02 - 2011
This story actually started back in 2006, and continues in autumn of 2008, then finishes summer of 2009.
The woods are lovely, dark and deep
But I have promises to keep
And miles to go before I sleep
And miles to go before I sleep

(extract from poem Stopping by Woods on a Snowy Evening by Robert Frost)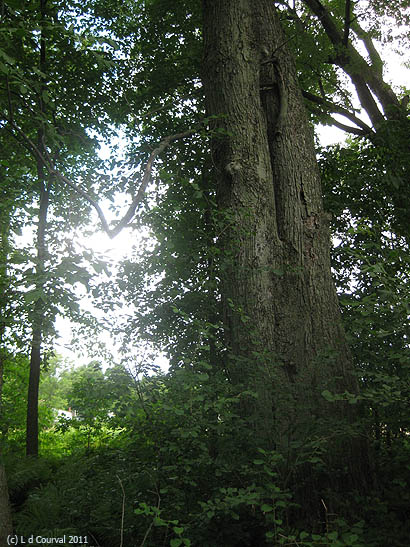 Vermont has always been part of our life, as family and friends have the ability to live in that beautiful state. Our story starts in 2006 when we headed to Middlebury. We could have crossed this bridge; the sign said a maximum of 7000, we are 8800 LBS. However just to be on the safe side, we took the long way in, driving on highway 7 bypassing this beautiful country road.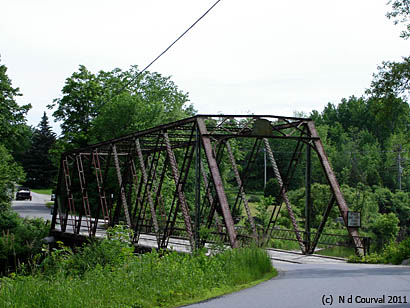 Middlebury, a college town is traversed by Otter Creek, the longest river in Vermont. This historical town chartered in 1761 is a very active place hosting myriad events throughout the year. As usual, a stop at the Middlebury College library is a requisite for a rest, sitting in big comfy chairs with a view of mountain and historical buildings.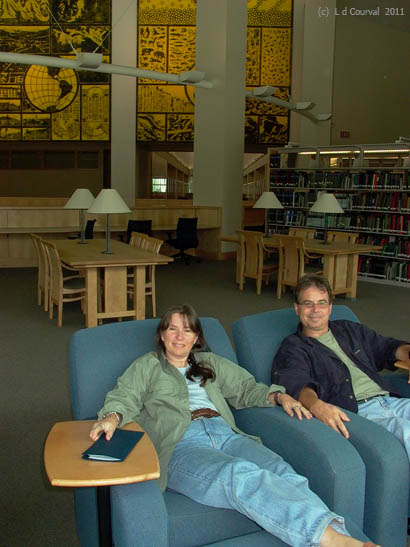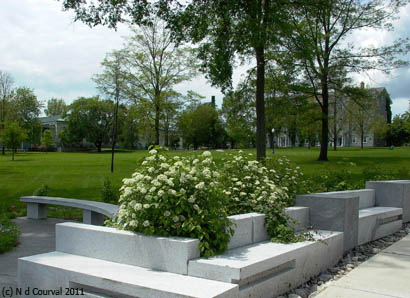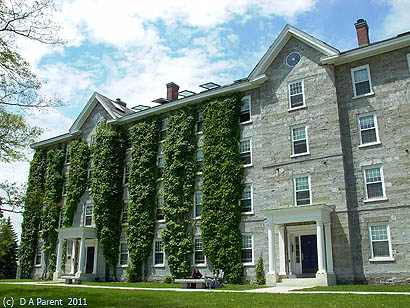 After reading more poetry by Robert Frost and enjoying his depiction of rural life, we headed out on the road again. So many times we had visited the Robert Frost trails, however we will bring you along on our 2008 visit; a rainy day in autumn, where the magic of Robert Frost was captured.
Out of the mud two strangers came
And caught me splitting wood in the yard

(extract from poem Two Tramps in Mud Time by Robert Frost)
With the rain we (Silverdunes and Silvercousin) could have been those two strangers that came, except standing beside his cabin, today; we could feel the echo of his presence. Rain or not, we remained. Both sitting where Robert Frost may have past hours looking at the marvellous landscape, both sharing our love of book, reading and the enchantment of Robert Frost's poetry.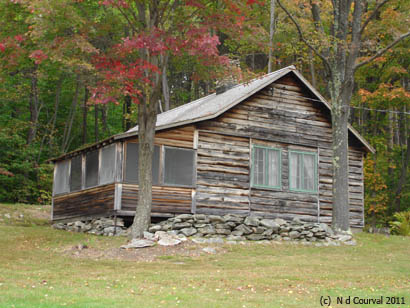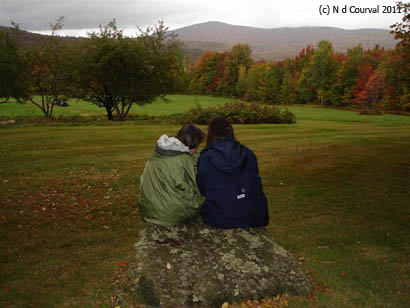 Then...being wet and in loss of thoughts...we went back on the road toward Breadloaf Campus. This mountain of 3835 feet situated in Addisson County, nests the old village of Ripton and Breadloaf School of English where the famous Breadloaf Writer's conference is held. Sitting on the porch of the main building, you can see a small part of the vast land (1800 acres) as rain has changed into a fine mist.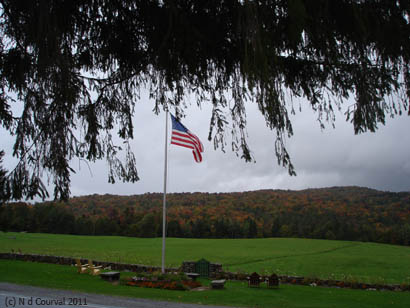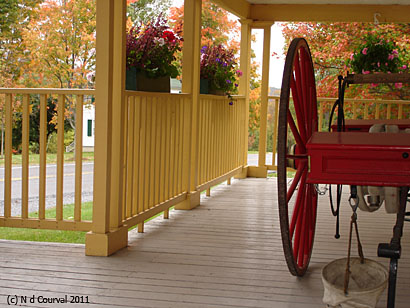 The roadside flowers, too wet for the bee,
Expend their bloom in vain.
Come over the hills and far with me,
And be my love in the rain.

(extract from poem A Line-Storm Song from Robert Frost)
Relaxing a good hour on the porch, we discuss writings about rain and storm until finally the mist subsided. Back down to Middlebury we went. On the way, Silversand runs off to make a photograph of the Waybury Inn, made famous by the Bob Newhart TV show.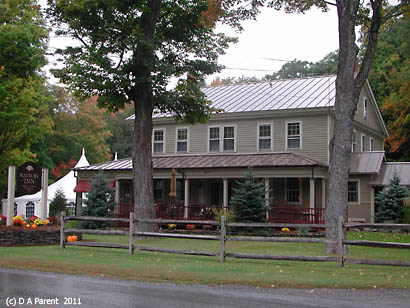 As you will not be surprised by now, we are headed to Vermont again on a late summer trip; and here is the full tale:
Our pre-dawn departure from our home in the Quebec Eastern Townships to Vermont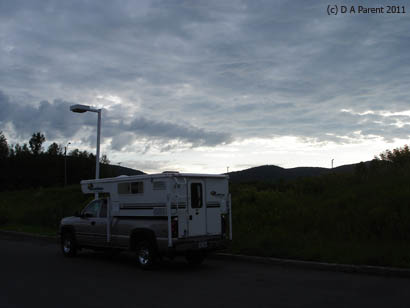 Crossing the border at Richford, town settled in 1795 with 2200 residents today. Stopped at old railway station to munch on a few grapes The road will bring us through Enosburg Falls, St-Albans, Burlington and Shelburne Vermont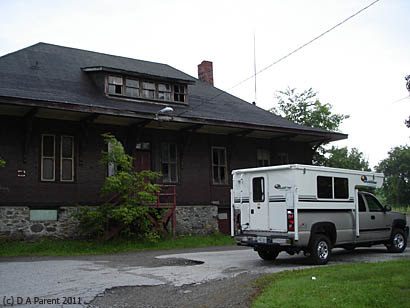 Shelburne, a historical town and part of Silverdune's growing up between Quebec and Vermont. A visit to Shelburne cannot be done without a stop at the Country Store. So many pleasurable things to the eye and to the taste (maple ice cream was incredibly good!)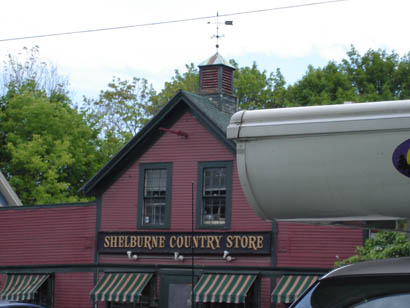 and so I dream of going back

(extract from poem Birches by Robert Frost)
And you have guessed it right! Back to Ripton again on Breadloaf mountain; stopping for shopping in another country store. A beautiful collection of old bottles and lanterns decorated the old store.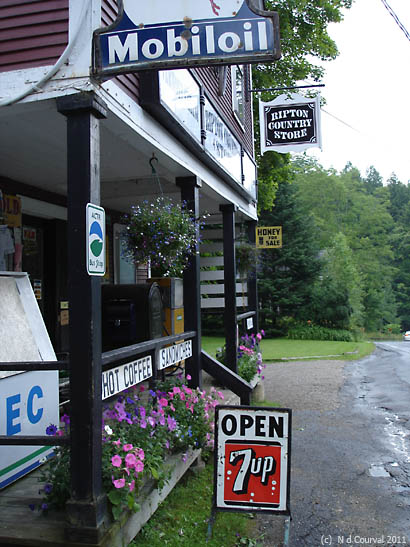 Again, we needed to set off for Robert Frost's trail at Bread Loaf Mountain. The 2008 flood had destroyed the trails and bridges to a large extent. Only a few poems were read under a heavy mist of rain and twirling of mosquitoes. Reluctance the last poem read, the feeling applying to the abandon of our journey on his trails.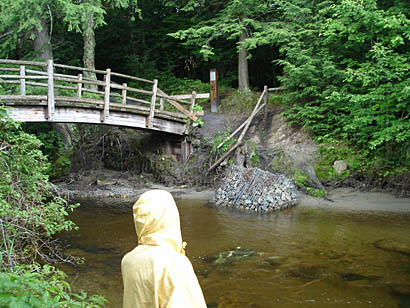 After a day of hiking and visiting, we came to camp on ancestral family land. Otter Creek flowing closes to us, a lama guarding sheep in the pasture and the ancient barn, witness of time and miles of fields created a peaceful camp. Flowered gardens surrounding us; we ate a fulfilling Vermont meal and tasted local beers from near by Otter Creek Brewery.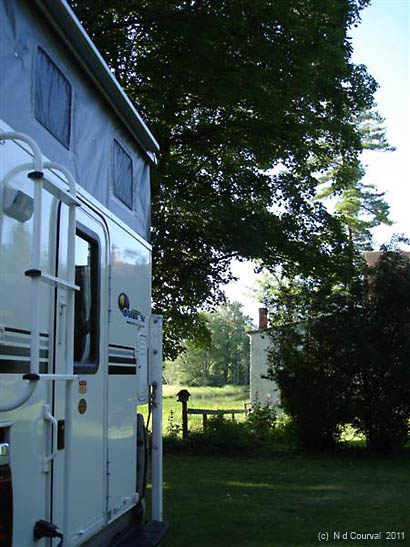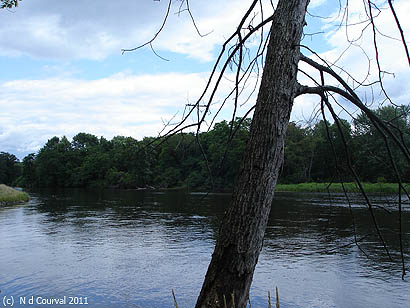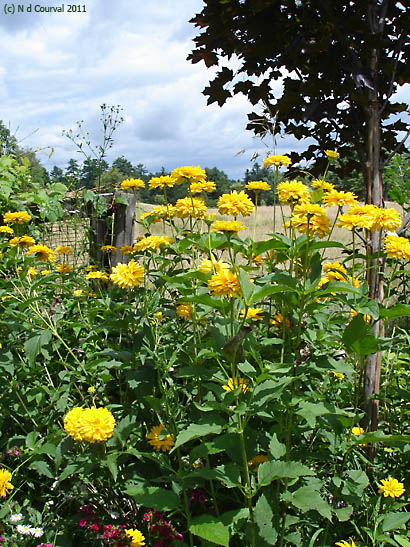 Landscape seen day after day, and yet we are not bored. The following day is the Middlebury Festival mentioned previously; we head into town for food and drinks at Doria's and later dance on jazz in the streets.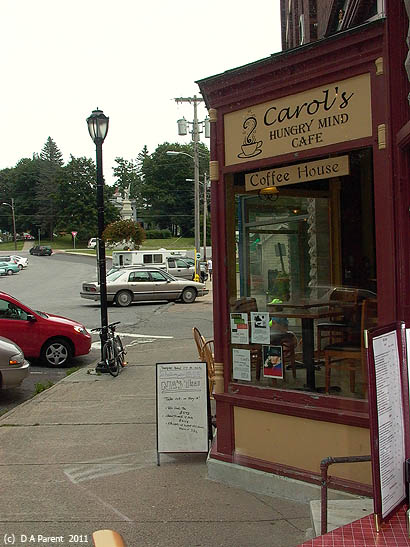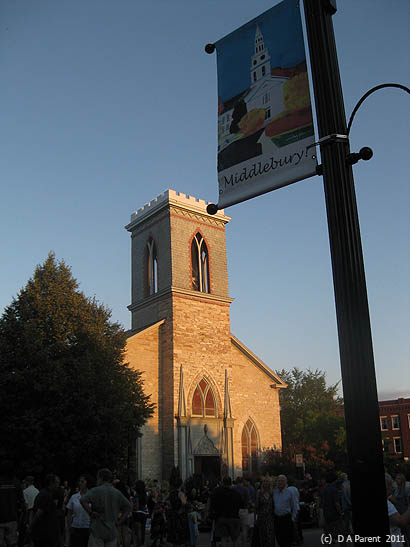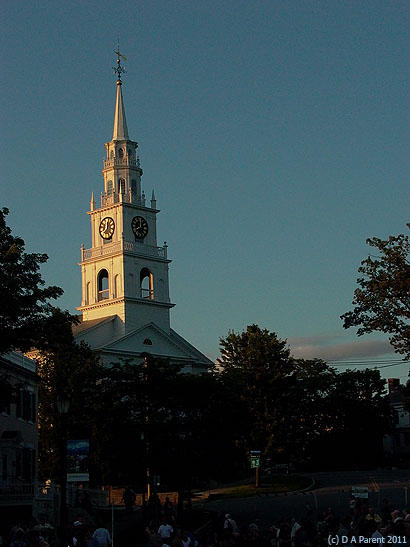 Early the following morning we hike and visit some caves, not too deep; it is said that a big fat cat (or, mountain lion) lives in there!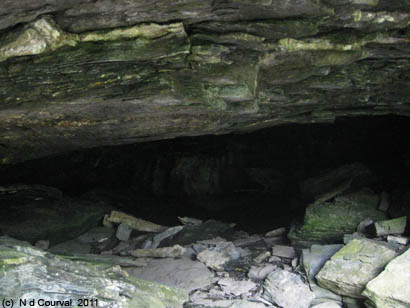 We walk the one of only a handful of double lane historical covered bridges in existence in the United States just as another storm was brewing. The Silverado and Campie cannot cross the covered bridge, the height clearance being a major issue for us.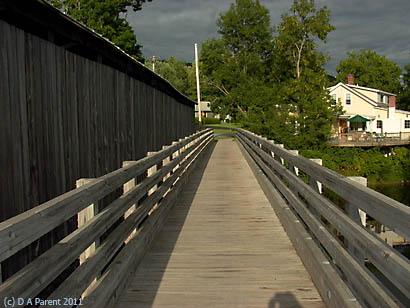 We left Middlebury on the last day of our short trip with a family birthday supper at Rosie's. Silverdsand seems perplexed; why do we have to go back, again?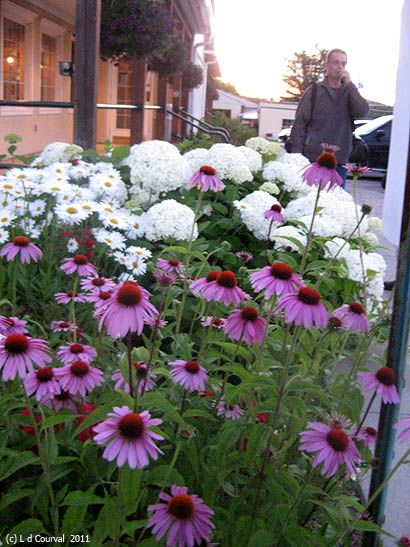 Out through the fields and the woods
And over the walls I have wended;
I have climbed the hills of view
And looked at the world, and descended;
I have come by the highway home,

(extract from poem Reluctance by Robert Frost)
--END--