Vernal Utah Fremont Petroglyphs
Dateline: 02 - 2011
This story actually started back in 2007 at a remote area in Utah called Vernal, at the private McConkie Ranch.
The Fremont culture gleaned its name from a discovery during one of numerous western Corps of Topographical Engineers expeditions, led by Colonel John Charles Fremont (son of immigrant Frenchman, Louis-Rene Fremont and Anne Beverley Whiting).
The Fremont, native American Indian occupied the Western Colorado Plateau and Eastern Grand Basin from 400 AD to 1350 AD (Utah, parts of Nevada, Idaho and Colorado). They were adjacent though very different from the Anasazi Culture, and many say that these hunter-gatherers were influenced by the Anasazi. Many theories elaborate on where they came from; a common theory is that they are a split from the Anasazi or that they have emerged from an older desert archaic culture, a flexible one, highly adaptable.
On our way to Vernal where we will set up camp for a few days, to explore McConkie Ranch and its surrounding, Silversand decided on taking the long way and visited some historical ruins.
Silverdunes is getting a bit impatient to get to their Vernal camp. We have entered the Uinta County, and the section of the Fremont in which she is interested are the Uinta Fremont, who dwelled around 650 to 950 AD.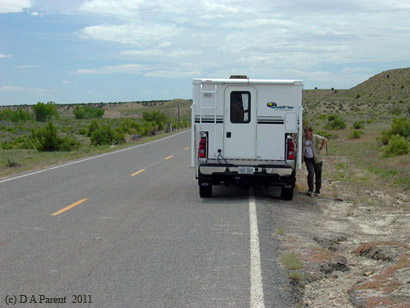 Due to cooler weather than expected (we are June 8tth) rain on and off, little sun, and the need to get Wi-Fi, we have settled into a KOA in Vernal, Utah. What a great pleasure it was to have met Jack Stuhler and companion Margaret Pemberton, with their Toyota Land Cruiser 'Tubby', traveling from Argentina to Alaska, on part of their around the World expedition. They were set up in the tent area of the campground, just 50 meters from us.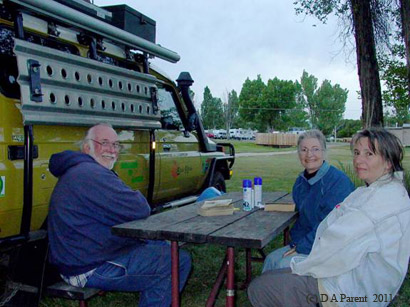 Silversand and Jack talking expeditions they had done and some of the same ground they had covered in Latin America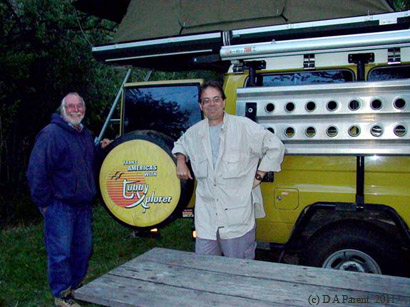 The next morning, after a visit from Jack and Margaret, we headed north on 500 West to Road 3500 west for approximate 6 miles and finally we arrive at Dry Fork Canyon Road and McConkie Road, and we parked in the visitor parking sector (well signed). We are here!
Warm jacket were required this early frigid morning, and there was no sun; however for rock art investigating, the sun would have make it difficult. Many of the petroglyps are not pecked into rock and coated with black desert varnish. A cloudy sky is very welcome, allowing us to profile the some barely visible and some highly visible rock art!
It is easy while looking at rock art to find interpretation based on our present culture. Thanks to archaeology, anthropology and history we are able to analyze the rock art and expand our horizons in interpretation of those peckings/drawings. Our background being historical and physical geography, I am more interested in similarities between rock art and their physical location and surrounding environment; such as certain drawings in pure high plateau desert, or motifs in certain specific parts of North America. What a treat for me, Silverdunes, to find an unique style, that stirred images of ancient Egypt in my head.
There were so many petroglyphs/pictographs, and in this story I will show only on a few; however, you will see more pics as you travel down this page.
This complex pecked and drawn rock art is outstanding, being protected under a large overbite of cliff-face:
Numbered P57 by researchers in the 1930 from Kansas Academy of Science. Numbering is not practiced by archaeologists anymore. This rock art is a mix of pictograph and petroglyps, having the definitive Vernal style, with geometric form. This particular rock art attracted my attention, for the rounded forms reminding me of sunrise and sunset, held by the figure in his hands. Many identified these sun drawing as shields.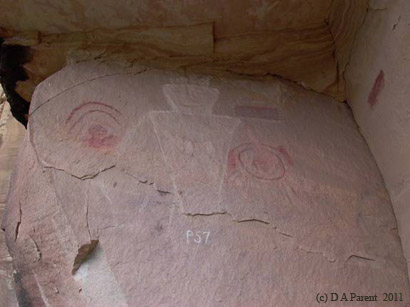 This petroglyph has often been recognized for its representation of a family unit. Interpretations are left for all to ponder, and are a personal translation of your imagination.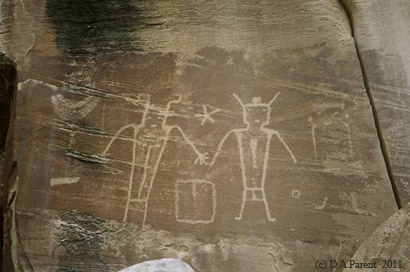 Silversand has been filming many panels throughout the day like the beautiful Three Kings rock art panel, situated roughly 100-feet above the canyon floor on a sheer cliff face. The human figures appear to be six to eight feet tall.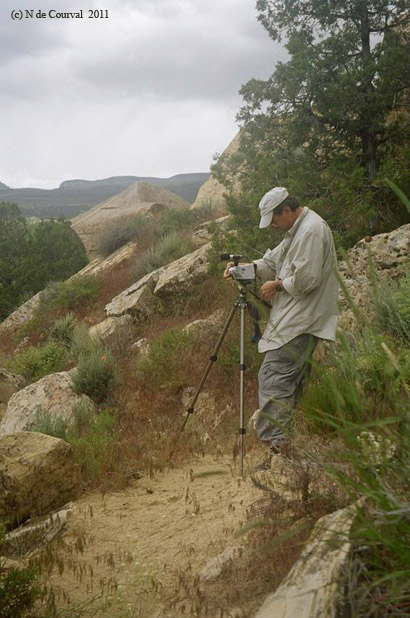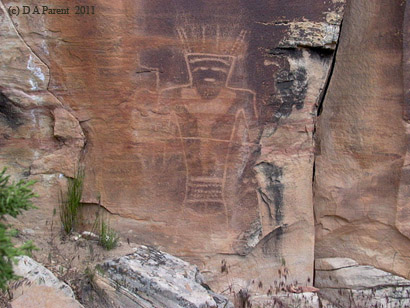 For the time being, we have not included the digital video footage of McConkie Ranch, however this panel is the most spectacular rock panel ever discovered in North America. It is hard not to see some ocnnections with the Aztec. A Molly A. Hall study in western Utah of mound buildings found similarities to the Aztec civilization's art suggesting possible outlier colonies.
On the road out of McConckie Ranch heading east, Silverdunes cannot stop thinking of the astonishing rock art she has seen over a ten hour expedition along the mesa cliff base of the McConckie Ranch. The Fremont culture will be remembered by their distinctive rock art style, pictographs and petroglyps depicting trapezoidal figures (human, spirit or unidentified being) reminiscent of the Egyptian Kings and the Aztec civilization, both advanced, pyramid builders, hieroglyphs writers and monarchies. How easy it is to mingle historical and pre-historical civilizations though concept and perception! How pleasurable it is to have the freedom to extrapolate on the meaning of art left to weather for millenia, revealing a glimpse of what life had been at the time of the Fremont.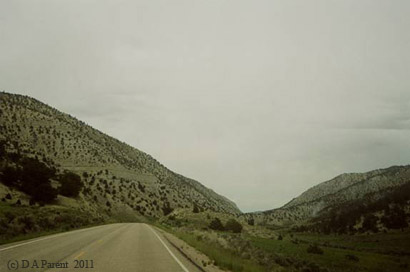 --END--