What camper genre?
We took one heck of a long time to research ruggedly-built campers made primarily for offroading, and shied away completely from wood framed popup up truck campers to settle on aluminum-composite framing. We were researching TCs 6-months.
-We struggled with the same questions that many are working through: camper van vs. other RV types;
-Camper vans virtually all have the tilt-roof with canvas (so you don't ruin your back getting around inside);
-For the 2 of us, the 16 and 18 foot camper vans were just way too confining inside, so we looked seriously at the 20-foot (Chevy 3500) vans;
-For us, 4 x 4 was essential (we like outback camping), the camper vans didn't come stock with it (an $8,000 option);
-We liked the driver compartment to rear access with the van!;
In conclusion, we could find absolutely no used 20-foot camper vans in our region for sale, only 16-footers. The new 20-footers were selling for $82,000 (local taxes included), and the new 18-footers were selling in the $70,000 (tax in) range. We then looked at VW configurations, but nixed this because of the extremely confining space for the 2 of us and their exorbitantly-high new and used prices. The next logical step was to look at other RV types, including a versatile truck camper set-up.
We looked at hard-sides and the massive and extremely expensive dually dual rear wheel pickups needed to transport said. Way too much investment: $58,000 in Quebec for the dually + $32,000 for the larger hardsides = nearly $90,000 Canadian tax in for a turn-key rig. The price of a new Class C 29-foot motorhome. We then looked at pop-up truck campers. We saw nearly every brand in North America then currently on the market. When we compared the net volume of the most luxurious pop-up truck camper (the Outfitter) to the net interior space of a $34,000 luxury hardside truck camper, we were astonished that the Outfitter 8-foot Caribou model was relatively near the same net volume (only 11 percent less) of an equivalent length luxury hard-sided truck camper; and that at under half the price in 2005.
As far as other larger pop-up truck camper models, We looked closely at the Apex, but all that extra mass hanging over the back of our truck's rear bumper was not worth the extra foot and change (and weight) for that interior space for the bathroom. We are real hard-core off-pavement campers and the extra camper overhang at the rear and extra 600-LBS of weight would be totally unacceptable to our needs. It's interesting that when we drilled-down into pricing, interior layout and weight between the two campers we were considering (the FourWheel Grandby versus Outfitter Caribou 8) with options, the Grandby would have been virtually the same price and weight as the Caribou 8 (for example: the Grandby's options of extended cab-over, auxiliary battery system, installation and a real fridge!). The real deciding factor was the vastly superior layout for our needs of the Caribou 8 (the nice Caribou 8 dinette and huge window at our elbows, rather than looking at the kitchen and cabinets with the Grandby window at our back), and integral curved one piece TPO rubber roof, reducing worry about maintaining against weather.
Camper build:
Our primary concern when sourcing a truck camper was the camper's ability to survive the elements and remain solid for at least 20 years after purchase, with routine maintenance, and storage in-doors during winter of course. This meant steering clear of campers made from wood frames and glass-wool or bead-foam insulation which are sponges for moisture and humidity: key ingredients for camper shell rotting, after even two years of ownership we hear regularly. The criteria we established were to source a pop-up truck camper with little to no organic material in the make-up of the camper structure, or shell. At the time of our purchase only one manufacturer was building composite walled campers with block extruded polystyrene and integrated aluminum framing all sandwiched between fiberglass reinforced plastic (FRP) panels with no organic backing of paper: Outfitter Manufacturing. So, the theory is that this kind of composite wall has no layer within which moisture can find its way, thereby eliminating or vastly reducing the potential for delaminating panels. This sounded perfect for us.
So, is this camper shell made completely of inorganic materials? No. The camper tub bottom and two sides are made up of an aluminum frame sandwiched with marine-grade plywood. The tub's exterior is coated with a rock-guard material to keep water and moisture off the surface. So practically speaking, this was the pop-up camper most comprised of composite non rotting materials available at the time of purchase.
Roof:
The roof is the only barrier between outside elements and the interior of the camper; these exterior elements can destroy a brand new camper in under a year, so we wanted a roofing system that would have a reasonable expectancy of life at least as long as our inorganic camper shell: 20 years. At the time of purchase, only 3 roofing materials were primarily being used on RV roofs: aluminum skin; EPDM rubber and fiberglass. One pop-up truck camper manufacturer was using a revolutionary new (to the RV industry new) roofing membrane: TPO (thermo-plastic olefin).
TPO roofing material is a far more advanced roofing membrane than straight EPDM rubber (ethylene propylene diene monomer); its long-term durability tests show a usable life in the 25 to 35-year range under extreme ASTM UV (ultraviolet radiation) testing. It seems to me that the first usage ventures for RV manufacturers using synthetic rubber (EPDM) roofing seemed to be with straight use EPDM. This unhybridized type of rubber may have yielded the white chalking many of the RV users are currently or had in the past experienced after rains. On the other hand, TPO membranes (if they are unhybridized with EPDM) are not affected by UV at all; they are naturally UV and heat breakdown resistant (not needing UV absorbents in their manufacture at all), however there may be anti-ozone compounds in them. This is the material used on the roof of our Outfitter Caribou model. The roof simply needs to be washed with cool water and much diluted automobile soap to maintain it. This TPO material is extremely puncture and tear resistant, especially with the 0.3 inch thick industrial felt underlayment padding impacts from steel objects (and, hail!). I dropped a stainless-steel razor-sharp tree pruning head from about 20-feet up onto the TPO roof of the camper resulting in only a pin-hole in the membrane; that is one tough membrane! It took me 5-minutes to patch it with a one square inch self-adhesive TPO patch. The patch has held for 3 years now.
In concluding the roofing criteria, it was important for us to find out EXACTLY who the EPDM/TPO manufacturer of our roof webbing was, and contact them directly for detailed cleaning instructions. DO NOT rely on your camper supplier and or dealer to know this kind of technical information.
The jack system to remove or load camper:
Both the front and rear camper-side tiedowns are integrated directly into the steel jack brackets (not the jack legs themselves) on the Caribou 8 that is made for the 8-foot truck bed. These brackets are of course bolted directly to the camper's most robust aluminum structural sections of the frame. So, if we ever decide to remove the jack legs, this would not interfere at all with the camper-side tie-down location (tough to explain till you actually see it first-hand). It was of the utmost importance for us that there are no eyelets bolted into the camper's rear wooden under-wing on our system, whatsoever. The truck-to-camper torsional-structural movement is mitigated while on paved roads through the turnbuckle's shock absorber action, and to a lesser extent through our thick rubber bed mat-to-camper barrier. This was a MAJOR deciding factor for us in choosing this particular camper for our specific usage, over a camper with wood-frame and wood-attached camper-side tiedown eyelets. I envisioned some above normal torsional twisting of our truck's bed that would translate through the camper's tub and camper frame when offroading. To mitigate this, I would have to loosen up all 4 turn-buckles that tie the camper down when on off-camber roads to lessen the torsional forces that the camper would otherwise have to absorb. This would not be wise for us to do if we were traveling at higher speeds while offroading, so we keep our speed to under 10-miles per hour during the time the turn-buckles are loosened.
Camper options, watch the weight vs. utility:
Camper weights entre various models can be confusing to understand. We think of the camper shell as a base weight from which everything else is added. The camper shell differs among camper manufacturers. One trick I've learned is to look at the CAMPER OPTIONS list that the manufacturer provides. This sheet should indicate what the camper model weighs without water and propane in the tanks and in many cases without the heavy camper battery, just the list of standard appliances on board. We had no need for an air conditioner nor a forced-air furnace. We use a catalytic propane heating system, and use the electrically-powered roof vent to pull air in from the small window located under the bed bulk-head wall. These practices provide plenty of cooling for us in the hot desert and plenty of heat for us during spring, summer and fall camping expeditions. The weight savings vis our camper minus the above is in the range of 250-LBS. Not unsubstantial!
In the end, we opted to go for the Outfitter camper because of their outstanding technical descriptions of their manufacturing processes and raw material components makeup, and excellent R and D to regularly improving their product durability.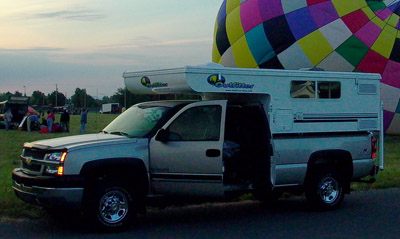 Silversand
Note: This web site and its content are (C) owned by D Parent and are protected by United States copyright laws and international treaty provisions. All content of this website is provided to the user on an as-is basis, without warranty of any kind, either express or implied, including fitness for a particular purpose, accuracy or reliability. The use of this website and or any content herein is at your own risk.