Buying truck, van or hauling vehicle?
We did extensive research on an appropriate chariot to haul said, and decided on the Chevy Silverado 2500HD, 6L gasser (absolutely NO need for a diesel with our scenario). We covered roughly 320 personal usage criteria before approaching GM dealers for pricing, buying the Silverado 2500HD (the equivalent of a 400-page book in itself just on the truck research). We synthesized the following Reader's Digest version:
Camper van:
1)only good in our eyes for weekend camping; cannot easily use it as a commuter for 4 passengers (in our urban area), nor can we do any work with it hauling anything short, long or wide vis construction or renovation materials. So, it would be sitting there looking pretty 10 months a year when not camping;
2)camper van(s) would be excruciatingly small for 2 of us to move and work about in (we visited 39 camper vans 1st hand);
3)the van chassis and box appeared to be terribly flimsy, and would not seemingly hold up to any offroading we would be doing without $14,000 to $18,000 in frame, suspension, 4x4 and wheel upgrades;
4)first and foremost the camper vans we looked at seriously were far and away too expensive when compared to volume, build, utilitarian criteria (many dozens of criteria I may add) of a heavy-duty pickup with stock accouterments.
Motor home (all genres):
1)simply too long, too wide and too tall for our available home storage site and absolutely useless for our planned offroading adventures...
2)the above says it all!
Tow trailers (all genres):
1)hey, a towable is not a vehicle! All towables require a truck out front of course;
2)when the tow vehicle is factored in, an offroad capable heavy-duty pick-up and trailer would be something like a tractor trailer rig in length; nuf said.
So, the only logical choice was a far more utilitarian and sturdy chariot: a heavy-duty pickup, with truck camper atop it...
New or used truck?
It appeared to us that the majority of full-sized used pick-up trucks available in our market area averaged over 60,000 miles on the odometer and ranged in vintage from 3 to 5 years old; these trucks still commanding at least 60 to 70% of their original price. Motor vehicle depreciating pricing primer 101: Any and all motorized vehicles near or at 4 or 5 -years of age are fully, fully, fully (did I say fully?) depreciated! It does not matter if the vehicle is an $300k Aston Martin, a $400k Lamborghini or a $6k Hyundai! a 3 year old Aston Martin Vanquish new: $300k used: $60k; a 3 year old Lamborghini Murcielago new: $400k used: no one would buy it for any price over a 90% discount; A Murcielago owner writes: "Beg, borrow and steal to acquire your favorite Italian exotic, but dare to buck the trend by actually using it on a regular basis and, when you come to sell, you will be spanked harder than if you paid a visit to a dominatrix in a Parisian brothel." Well, perhaps there are some out there who would by a truck 20 to 50 percent over it's depreciated value!
The problem we speculate with many selling their used trucks and cars today, is owners (not all, but most do not understand, or, do understand but live in denial), that their used 3, 4 or 5 year old vehicle is valued at only a pittance of new vehicle purchase price. Caveat: certain collector vehicles, but these are few and far between. So, my advice to myself was: if you loved your vehicle enough to marry it originally and it hasn't cheated on you, keep it till the wheels fall off! Vehicles with modular engines today (gas or diesel) appear to easily go half-a-million miles doing regularly-scheduled maintenance.
What's better: keeping the vehicle purchased new one knows intimately and that has done well over time? Or, gambling hard-earned money for a used unit about which nothing is known? In concluding, for us to buy a fully-depreciated vehicle for it's real value, we won't pay much for it (logical, yes?); so, our philosophy was keep the existing fine running Steed, rather than taking a gamble on a used truck. BTW: understanding who, what and how the previous owner is, behaved, and did when driving and maintaining the used vehicle one spies is pretty well impossible, and down-right impractically cost-prohibitive to find out. Unless spending hundreds in time and cash researching the previous owner's history!
Now, what pick-up truck?
Before I start, we have to consider buying a diesel option. From my research, the diesel option would cost us in Canada an extra $8000 to $9000 above base truck cost. Diesel engines weigh an incredible 600-LBS plus more than our targeted gasoline engine, robbing us of payload margin. Diesel engines are infinitely more complex in design, parts and maintenance when compared with gasoline engine, and at that time diesel fuel was substantially more expensive than gasoline. Considering our payload (about 50 percent under the truck's rated maximum), our intended total mileage per annum (less than 9000 miles!), and the incredible differential in gasoline and diesel fuel (a whopping 20% at that time in history), a diesel option would have been pure madness, and would have been simply a vanity issue.
In hindsight, diesel engines in the Big Three heavy-duty pickups after 2006/2007 were only getting 13.5 to 17 miles per gallon under maximum payloads for each of the model configurations, with the odd statistical outlier indicating 19 MPG and 11 MPG. Our truck under our payload in the Rockie Mountains gets consistently 12.2 MPG, and on medium rolling hill country gets a rock steady 13.6 MPG. With the vast majority of our driving not being in the Rockies, our mileage with our payload is comparable to the majority of today's low-sulfur diesel engines. The moral of this story is: choose the fuel engine type for your planed payload and add approximately 40 percent to your planned hauling weight.
The discussion about what pick-up truck brand to buy is quite personal. Many owners we had talked to make their decision based on criteria as diverse as brand loyalty or the cosmetic appearance, to hard research and long-time personal experience. We went about the search in the following way: we polled dozens owners of the Big Three truck makers 2002 to 2004 0.75 and 1.0 ton models in North America and did walk-abouts looking at existing trucks out there in the model year previously noted noting corrosion resistance, engine and drive-train reliability, interior comfort and noise level, frame build, net undercarriage ground clearance, axle type and suspension.
Our collated results were rather interesting: one manufacturer's corrosion resistance appeared to stand out in particular over the two others; just one manufacturer's steel frame was shaped into a C channel rather than a boxed frame-rail in the area needing an attachment point for the camper; only one manufacturer had an engine with impeccable long-term reliability; two manufacturers had transmissions that had excellent reliability records; only one manufacturer had a steel pick-up box that was clearly made of thicker gauge steel; only one manufacturer had a pick-up box height from ground level that was easily accessible from outside the truck; only one manufacturer had a independent front suspension system (IFS) at the front instead of solid axles, adding to the model's far more comfortable ride; only one manufacturer's model, in the 0.75 ton class, had the most payload (the most important criteria if one will be hauling a truck camper) in the configuration we desired; and finally, only one manufacturer's model had a clear driving view for Silverdunes (only 5 foot 3 inches tall) over the front hood and dashboard: the GM Silverado extended cab, 6-liter Vortec gasoline engine, 4-speed transmission, with 8-foot box, 4x4 and heavy-duty towing package.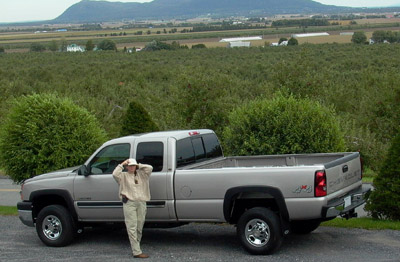 This truck would allow us to mount a light-weight ruggedly-built 8-foot pop-up camper with 6 foot cabover extension (queen-sized sleeping area) weighing in at 1000-LBS, plus 3oo to 400 pounds of food and gear and water, and 350 pounds worth of passengers. With this truck's 3400-LB payload capacity, our total payload would be 1750-LBS, giving us a payload safety margin of 1650-LBS. We simply did not want to be hauling a payload at or above the rated payload capability of our truck for the following reasons: off camber roads would make the experience horrific in terms of swaying; being at or above payload would give us zero suspension play while offroading; hauling at or above payloads up extremely steep terrain while offroading would be too taxing on the transmission and gas consumption for us.
Silversand
Note: This web site and its content are (C) owned by D Parent and are protected by United States copyright laws and international treaty provisions. All content of this website is provided to the user on an as-is basis, without warranty of any kind, either express or implied, including fitness for a particular purpose, accuracy or reliability. The use of this website and or any content is at your own risk.